Get Your MBA, Master of Beer Appreciation, or Learn about BJCP or Cicerone® Training, or Explore the IUPUI Essentials of Brewery Operations Program!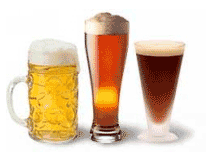 Thanks for your interest in either our regular Beer MBA classes, or our other beer-related training classes, or the Essentials of Brewery Operations Program and other classes I teach at IUPUI and Ivy Tech. Hopefully this page will answer all your questions and provide the information you need. If you still require any additional information, don't hesitate to contact us.
Beer MBA Classes
For more information on the regular Beer MBA classes, continue reading below and/or view the current Beer MBA Class Schedule or Click here to sign up!
BJCP Exam Study Groups
For more information on the BJCP Exam Study Groups and becoming a BJCP judge, click here. Also, for more information about the Beer Judge Certification (BJCP) program, see www.BJCP.org.
Beer Expert Training Classes (for the Cicerone® exams)
For more information on Beer Expert Training Classes and becoming a Certified Cicerone®, click here. Also, for more information about the Cicerone program, see www.Cicerone.org.
IUPUI and Ivy Tech World Beer Styles College Courses
I teach a World Beer Styles and Sensory Analysis type program at both IUPUI (Indiana University, Purdue University, at Indianapolis) www.IUPUI.edu and Ivy Tech Community College www.IvyTech.edu. You must be a student at these respective colleges to take these classes, which are part of their Beverage Management Certificate Programs, or taken as electives, etc. These classes are also Beer Expert Training Classes and students can become Certified Cicerones®, click here. For more information about the Cicerone program, see www.Cicerone.org.
IUPUI 7-Day Essentials of Brewery Operations Program
This is an intensive concise course in Craft Brewery Operations. This 7-day Certificate Program is designed for anyone wanting to work in the Craft Brewing Industry. Participants Do Not need to be a student at IUPUI and there are No Prerequisites (though some brewing experience or exposure would be beneficial). The full 7-day program is very reasonably priced and class days are generally 2 weeks apart to make them easier to attend. The program is designed to provide an in-depth understanding of beer styles, off flavors, ingredients, water chemistry, and brewing processes, as well as a good foundational overview of commercial brewing equipment, processes, packaging, quality control measures, tests and data, serving and tap room operations, and more. This is knowledge to help introduce students to all aspects of professional brewing operations, from brewing, QC and packaging, to tap room operations, marketing and sales. The course is designed for people wanting to enter this rapidly growing industry in various operational roles. In addition to the class room time, at least 3 half-days will be held at Sun King Brewery for some practical knowledge, plus there are multiple "after-class" technical brewery tours at various other local Indy breweries. Huge Thanks to Sun King for their support of this program and their desire to help create a more educated, quality-driven craft beer workforce. Visit the following link to learn more about this program and/or to sign up. www.iupui.edu/~solctr/brewery-operations-certificate/. Class topics include the following.
Class 1: World Beer Styles and Sensory Analysis

Class 2: US Beer and Craft Beer Styles, Trends and History

Class 3: Beer Ingredients and Their Impact on Brewing

Class 4: Brewhouse Equipment and Operations

Class 5: Fermentation and Cellaring Operations

Class 6: Packaging and Quality Control

Class 7: Brewery, Tap House & Bar Operations
ALSO, for ALL of the various classes listed above, please sign up for our email list to receive occasional information on these topics.
Also, like the Beer MBA Facebook page here: https://www.facebook.com/pages/Beer-MBA-Classes/276839992356324
.
Beer MBA Classes - More Than Just a Tasting
This is a unique opportunity for people at all knowledge levels to learn more about the World's Classic Beer Styles, as well as a little about Brewing Processes and Ingredients, Beer and Food Pairing, and more. As we sample each beer, we'll briefly discuss its origin, history and what makes it unique. This is a really fun experience. Don't miss it!
Designed for Everyone (must be 21 years of age)

Flexible Schedule - Take Any Class in Any Order (after attending a Class 1)

Take All 3 Classes and Get Your "MBA Certificate"

Only $55 per 4-hr Class (includes free samples of all beers)

Discounts available:

Sign up for all 3 classes for $150 total
Call for group discounts
Class 1 Beer Styles (Q17)
Czech Pilsner
American Pale Ale
American India Pale Ale (IPA)
American Wheat
German Hefeweizen / Weiss
Belgian / French Saison Ale
Belgian Tripel Strong Ale
Flanders Red Belgian Sour Ale
English Ale / Extra Special Bitter (ESB)
Scottish Export 80 Ale
English Northern Brown Ale
Munich Dunkel Lager
American Robust Porter
Irish Dry Stout
German Doppelbock
English Strong Barleywine
Specialty Beer
Class 2 Beer Styles (Q18)
English Ale / Ordinary Bitter
German Sour / Berliner Weisse
German Dunkelweizen
German Oktoberfest
American Steam Beer
American Amber / Red Ale
European Dortmunder Export
English India Pale Ale (IPA)
German Schwarzbier
London Brown Porter
Sweet / Milk / Cream Stout
Foreign Extra Strong Stout
European Helles / Pale Bock
Belgian Blond Strong Ale
Belgian Dark Strong Ale
Scottish Strong / Wee Heavy
American Strong Barleywine
German Smoked Rauchbier
Class 3 Beer Styles (Q17)
Munich Helles Lager
Belgian White / Witbier
European / Vienna Amber
Cologne Germany Kolsch
English Ale / Best Bitter
German Dusseldorf Altbier
American Brown Ale
American Strong Stout
American Imperial IPA
Belgian Farmhouse Sour Ale / Gueuze
Belgian Sour / Fruit Lambic
Belgian Dubbel Strong Ale
German Weizenbock
Russian / Baltic Strong Porter
English Old Ale / Strong Ale
German Eisbock (ice bier)
Wood / Bourbon Barrel-Aged
Note: Specific beers may need to be substituted due to the availability of unique styles, but each class will always have a similarly interesting line-up.
Additional Demos & Discussions
In each class, we will discuss and sample a different set of Flavors and Common Off-Flavors found in beer.

Also in the classes, there will be brief overviews of different Brewing Techniques, Processes and Ingredients, some History discussion, Beer and Food Pairing, and more.
Additional Information
Samples are spaced out well to avoid overindulgence, but designated drivers are always encouraged. Since the education is what is being paid for, designated drivers may not participate in the class in any way.
Current classes are scheduled as follows (note that more may be added or these may need to be eliminated or changed due to demand or schedule conflicts. If a class is rescheduled you will receive a refund or be placed in a different class at your discretion):
Current Class Schedule
Currently, we are conducting approximately 2 class series per year, in the Spring and Fall, as follows:
Typically they are Tuesday, Wednesday or Thursday Night Classes (6:00pm - 10:00pm at Carmel Payless, or Black Acre Garden, see info below).

Spring 2021 Series:
Tuesday, May 11
Tuesday, May 25
Tuesday, June 8
Fall 2021 Series:
Fall schedule will be released in the Spring of 2021.
All 2022 Series Classes Will Be Announced Late in 2021!
Note: Special Occasional Classes for Alumni Only will be introduced in the future. Stay tuned.
Note: To get on our mailing list to be notified about future dates and to let us know your interest in attending future sessions, please fill out the form on the Contact page!
MAIN LOCATION - The main Beer MBA classes location is the Payless Liquors located in Carmel, at 726 Adams Street. This location is a little hard to find, but it is a great store with an excellent selection of beer and a beautiful tasting room. To get there, from Meridian Street just north of I-465, head East on West Carmel Drive past the Meijer. Stay on West Carmel Drive as it winds around heading towards Carmel. Look for a strip center on the North / East side of West Carmel Drive and turn on Adams and then into the parking lot. If you get to City Center Drive, you went a little too far, but West Carmel Drive, City Center Drive and Adams Street make a loop, so turn on City Center Drive and look again for Adams. Please park in the back of the parking lot away from the other businesses since you will be there for a while. To get to the upstairs tasting room, go to, and through, the Wine Cellar located at the back left of the store. In this Wine Cellar, there is a door that opens to the stairs that lead up to the tasting room.
BLACK ACRE GARDEN LOCATION - This new secondary Beer MBA classes location is at Black Acre Brewing's main brewery and beer garden location at 5529 Bonna Ave in Indianapolis. This location was used for a safe, distanced, outdoor air (but technically indoors) series of classes in the Fall of 2020 during the pandemic. There is a large event space that has no recirculating air, and doors leading outside on both sides of it that allow fresh air in. This situation, along with ample space to spread out, creates a safe environment for conducting the classes. Also, when I came around to pour the beer, I wore a mask for added protection. In 2021, depending on the pandemic situation, we may conduct the classes here again, and/or we may just return to this location because it is a great and fun setting! To find this location, find the beer garden at the address above, go into the beer garden area, head towards the bar, then go right towards the restrooms, and you will find the large event space.
Top of Page
---
Email Sign-Up
Sign-Up to Hear About Beer Trips and Classes

News
Beer Trips to Belgium and Germany

Learn More about our incredible Beer Trips and Sign Up Today! Learn more and/or sign up today!
Beer Styles, Brewery Operations, BJCP, Beer Expert Training for Cicerone®, and Private / Special Class Sessions All Available

Beer MBA classes are offered each Spring and Fall, BJCP Exam Prep and Beer Expert Training (for taking the Cicerone® exams) are scheduled as needed, and Brewery Operations courses are offered each Spring (and maybe in the Fall). Special class sessions for beer distributors, wait staff and others in the beer industry can be customized to meet your needs and offered anytime. Private sessions for parties and events can also be arranged. See Classes for more information!
---