Get Your MBAs
Master of Beer Appreciation
Master of Beer Appreciation European Trips
Master of Barrel-Aged-Whiskey Appreciation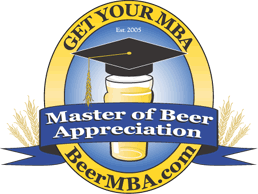 Welcome to the Beer MBA website. The main purpose of this site is to provide information on our Master of Beer Appreciation Classes and Trips, as well as Whiskey Appreciation Classes, Belgium and Germany Beer Trips, Cicerone and BJCP Study Group Sessions, and some additional resources for all beer lovers.
The popularity of craft beer in the United States has grow significantly over the past 15 years or so, and it continues to grow today. As the many new brewpubs and microbreweries have gained fans all across the country, with many of them brewing some of the world's great beer styles, the American public has started to learn more about those classic styles. Most people don't realize there are well over 75 styles of beer in the world. While some of those styles have developed out of America's craft beer movement, many of them are centuries old and come from countries all around the globe.
The more people learn about and want to drink all these legendary beer styles, the more the liquor and beer stores are stocking them, and better yet, the more they are able to keep them fresh. It is truly a great time to be a beer lover in the United States! In addition to being able to find these classic beer styles from around the world, the US craft brewers are also making these world styles, so fresh US versions are often readily available.
In our Master of Beer Appreciation classes, you will not only sample over 50 classic styles (approx 17-18 in each of three classes), but you will learn about each beer's origin, history, uniqueness, special ingredients, brewing processes, how it should be stored and served, and more. You will also learn about some of the common flavors and off-flavors found in beer as well as what causes them, and most importantly, how to avoid the bad ones.
This is a one-of-a-kind beer education class series and something not to be missed by anyone with an interest in beer. Wine lovers will also enjoy these classes as they see how many of the world's beers have similar complexities, and nuances to wine, and are often vintage dated and laid down for many years to improve their character.
These classes are also something you can share with your spouse as couples are very welcome. Or attend with a group of friends. Learning about these beer styles as a couple or a group makes for a very fun evening. Classes can also be purchased as a gift.
Whiskey / Whisky is also more popular than ever, so our new Master of Barrel-Aged-Whiskey Appreciation classes will do for whiskey what our beer classes do for beer. These whiskey classes offer the opportunity to learn about all the different varieties of whiskey produced around the world, and what makes them different, their ingredients, production methods, barrel aging, etc., and of course, how they compare in aromas and flavors. Just as with the beer classes, these whiskey classes are fun to take as a couple or a group. Classes can also be purchased as a gift.
Lastly, our European Beer Trips to Germany and Belgium have become very popular! These trips offer the trip of a lifetime to people really interested in not only the beer styles, but the culture, food and more, and want to experience it first hand. Trips are offered annually.
See About to learn more about Ron Smith, the developer of the Beer MBA classes and leader of the Beer Trips.
See Classes to learn more about the class descriptions, dates, locations and how to reserve your spot. Remember, if you attend all 3 classes, you will receive your free Beer MBA Certificate.
Under Classes, you can also read about BJCP Study Groups, Beer Expert Training (for taking the Cicerone® exams) and Private Beer Education sessions that can be conducted at your home or business as part of a private or corporate event.
Thanks again for visiting our website. Now...Get Your MBA!
- Ron Smith
Founder, Class Presenter and Beer Trip Leader
Top of Page
---
Email Sign-Up
Sign-Up to Hear About Beer Trips and Classes

News
Beer Trips to Belgium and Germany

Learn More about our incredible Beer Trips and Sign Up Today! Learn more and/or sign up today!
Beer Styles, Brewery Operations, BJCP, Beer Expert Training for Cicerone®, and Private / Special Class Sessions All Available

Beer MBA classes are offered each Spring and Fall, BJCP Exam Prep and Beer Expert Training (for taking the Cicerone® exams) are scheduled as needed, and Brewery Operations courses are offered each Spring (and maybe in the Fall). Special class sessions for beer distributors, wait staff and others in the beer industry can be customized to meet your needs and offered anytime. Private sessions for parties and events can also be arranged. See Classes for more information!
---