Home
> Custom or Private Beer Tours of Germany, Belgium, Munich, Brussels, Bamberg, Brugge, Trappist Monasteries, Oktoberfest, and More
Custom or Private Beer Tours of Germany, Belgium, Munich, Brussels, Bamberg, Brugge, Trappist Monasteries, Oktoberfest, and More
Custom or Private Beer Tours, Day Trips, Special Beer Tours, Beer Tastings, Chocolate Tours, City Tours, Lambic Tours, Oktoberfest Visits, and More.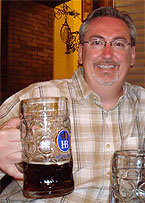 If none of my Germany or Belgium Beer Trips meet your needs, I can plan a special custom and/or private beer tour or other type of tour for you. See some of the possibilities below, but contact me at BeerMBA@MarketWiseSolutions.com and just let me know what you would like to do.
GERMANY:
Germany Beer Tour
Germany Private Beer Tour
Germany Custom Beer Tour
MUNICH:
Munich Beer Tour
Munich Beer Tasting
Munich Custom Tour
Munich Walking Tour
Munich Brewery Tour
Munich Beer Garden Tour
Munich Beer Dinner
Munich Private Guide
KLOSTER ANDECHS:
Kloster Andechs Tour
Kloster Andechs Visit
OKTOBERFEST:
Oktoberfest Tour
Oktoberfest Visit
Oktoberfest Private Guide
BAMBERG:
Bamberg Beer Tour
Bamberg Beer Tasting
Bamberg Custom Tour
Bamberg Walking Tour
Bamberg Brewery Tour
Bamberg Smoked Beer Tour
Bamberg Beer Dinner
Bamberg Private Guide
BELGIUM:
Belgium Beer Tour
Belgium Private Beer Tour
Belgium Custom Beer Tour
BRUSSELS:
Brussels Beer Tour
Brussels Beer Tasting
Brussels Custom Tour
Brussels Walking Tour
Brussels Brewery Tour
Brussels Lambic Beer Tour
Brussels Beer Dinner
Brussels Private Guide
Brussels Beer Cafes Tour
CHOCOLATE:
Belgium Chocolate Tour
Brussels Chocolate Tour
Brussels Chocolate Walking Tour
Brussels Private Chocolate Tour
Brussels Chocolate Tasting
LAMBIC:
Lambic Beer Tour
Lambic Beer Tasting
Lambic Custom Tour
Brussels Lambic Walking Tour
Lambic Brewery Tour
Brussels Lambic Beer Tasting
Lambic Beer Dinner
Lambic Private Guide
TRAPPIST MONASTERIES:
Monastery Beer Tour
Monastery Beer Tasting
Monastery Custom Tour
Brussels Lambic Walking Tour
Brussels Trappist Beer Tasting
Trappist Beer Dinner
Belgium Monastery Private Guide
Chimay Tour or Visit
Orval Tour or Visit
Westvleteren Tour or Visit
FLANDERS BREWERIES:
Rodenbach Beer Tour
Rodenbach Beer Tasting
Flanders Beer Tour
St. Bernardus Beer Tour
St. Bernardus Beer Tasting
Custom Flanders Tour
Private Flanders Tour Guide
BRUGGE:
Brugge Beer Tour
Brugge Beer Tasting
Brugge Custom Tour
Brugge Walking Tour
Brugge Brewery Tour
Brugge Beer Dinner
Brugge Private Guide
Brugge Beer Cafes Tour
---
Email Sign-Up
Sign-Up to Hear About Beer Trips and Classes

News
Beer Trips to Belgium and Germany

Learn More about our incredible Beer Trips and Sign Up Today! Learn more and/or sign up today!
Beer Styles, Brewery Operations, BJCP, Beer Expert Training for Cicerone®, and Private / Special Class Sessions All Available

Beer MBA classes are offered each Spring and Fall, BJCP Exam Prep and Beer Expert Training (for taking the Cicerone® exams) are scheduled as needed, and Brewery Operations courses are offered each Spring (and maybe in the Fall). Special class sessions for beer distributors, wait staff and others in the beer industry can be customized to meet your needs and offered anytime. Private sessions for parties and events can also be arranged. See Classes for more information!
---