Germany Beer Trip 2017
Munich, Bavaria, Bamberg, Plzen and Prague!
July 14th - July 24th --- 10 Nights (or less, see below)
OPTIONAL: For this special trip, I have found a way to include the Czech Republic in the main trip (not as an extension) and yet keep the price very affordable! Plus, flying into Munich and out of Prague typically costs less as well. However, if you can't do this full trip, it is possible to skip the last day or two as we travel to Plzen and Prague and make it 8 or 9 Nights. Contact me for the pricing and details about doing this.
NOTE: This is a Special Trip where Older Kids are Welcome. Kids (preferably aged 10 or older) are welcomed to join if you want to make this a family trip! The regular beer-intensive focus of the trip will not change, but kids, and perhaps some adults not as interested in beer, will have some alternative things to do at times (see all details below).
NOTE: See day-by-day itinerary below. All photos shown below and in the video were actually shot on previous trips!
DAY 1: Friday - July 14th - This unbelievable Germany Beer Tour starts when you arrive in Munich (we will meet at the hotel - I will provide detailed step-by-step directions for how to get from the airport to the hotel - or if you prefer I can meet you at the airport if possible). After a short nap (for those arriving that morning and able to get into their room, which is not a certainty), we will meet up around noon and take a walk around the Marienplatz, the old part of Munich and some other interesting areas. I will get you acquainted with the city, how the trains work, where things are, etc. We will stop for a light lunch, maybe at the famous Hofbrauhaus, and perhaps your first beer (of many) in Germany, and we may visit a brewery, as well as a beer garden for dinner and another beer or two (transportation to the hotel, lunch, beer and snacks during the day on your own - dinner is included). After a fun afternoon and early evening of getting to know Munich, most of you that arrived in Germany this morning will be exhausted, so we may call it an early night and let everyone settle into their room and get a good night's sleep. We have a very fun and very busy day tomorrow!
Kid Options - Everyone will enjoy today's introduction to Munich and the stops we will make, including any beer gardens where we will be outside. Often, the beer gardens even have playgrounds and kids are more than welcomed.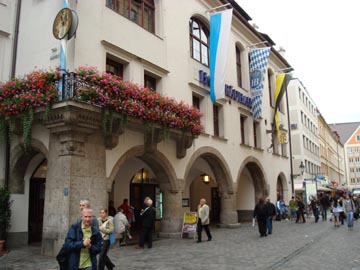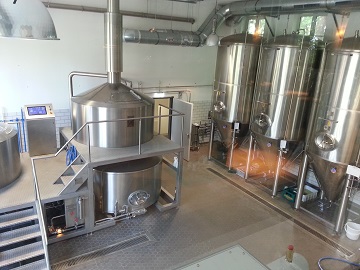 DAY 2: Saturday - July 15th - After a hearty and delicious breakfast at the hotel, we will set out to explore more of the great city of Munich. The day begins with an organized bike tour, which is a fantastic way to see and learn about the city, and includes a stop for beer and sausages in the park at one of the city's famous beer gardens (lunch and beer on your own). This is an amazing tour of this historic city that is both fun and educational. After the bike tour, you are free to explore more on your own, which might include visiting some of the beautiful churches and great museums, or you can just take some time to relax. You will be provided with guides, notes and directions to some of the famous beer bars, area breweries, tourist attractions, museums, etc. We will meet back up later for an incredible German beer dinner (included), possibly followed by more beers and good times in one of the city's large beer gardens (beer and snacks at the beer garden on your own). This is sure to be a Saturday night you will always remember!
Kid Options - Everyone will enjoy the bike tour, which is not very strenuous, and visiting the park. Depending on the ages of any kids that may be on the trip, they may have more fun having a pizza party and playing games at the hotel, rather than attending the beer dinner. It is probable that my older children will be on this trip, so they will help coordinate the kid options like this one.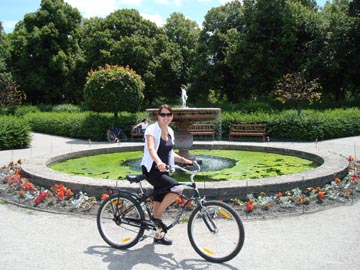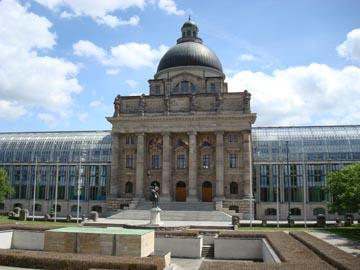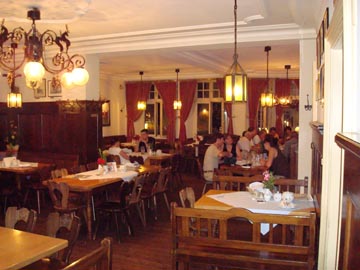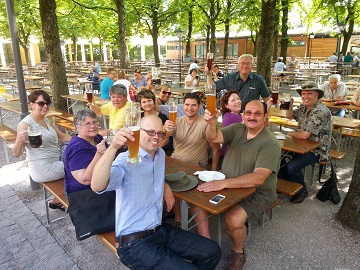 DAY 3: Sunday - July 16th - This is a very special Sunday in Munich! Once per year, on this Sunday morning at "Sunrise" around 5:00 am in Englischergarten park, there is a traditional festival where people gather in period or classic Bavarian attire and dance, drink and have fun until about 9:00 am. Some of you may be interested in this unique gathering. Either way, we will have another great breakfast at the hotel, then we will take a train out to the village of Aying and tour the famous Ayinger Brewery. Ayinger makes some of my favorite beers in the world, and you will never taste them fresher than right at the brewery. This is a magnificent brewery located in the beautiful German countryside. After the tour and a great beer tasting, we will have an incredible early dinner with more fresh Ayinger beer at a small restaurant affiliated with the brewery. We will then board the train to head back into Munich, where we should arrive in time for you to do some night time exploring on your own if you wish, or you may want to get a good night's rest for another big day tomorrow.
Kid Options - Kids will really enjoy the train ride out into the country. Rather than tour the brewery, some kids and adults may choose to spend a little more time in the quaint village of Aying. This is a very small town in the German countryside, but it has a beautiful church and some other interesting sites.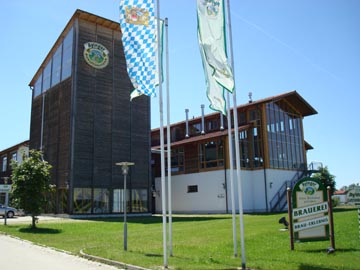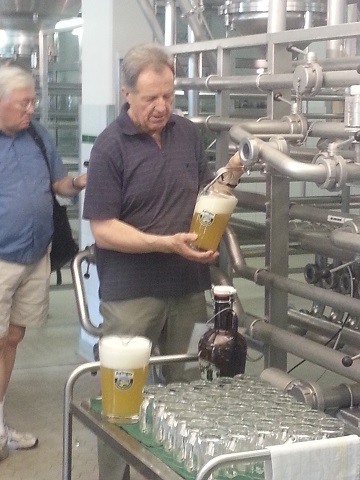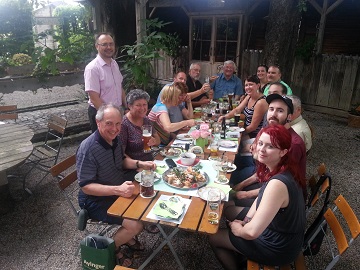 DAY 4: Monday - July 17th - Today, after breakfast, you can choose to either have some free time to continue exploring Munich on your own, or we can take a short train ride out to the neighboring town of Freising and visit, and possibly tour, the legendary Weihenstephaner Brewery. This is the oldest active brewery in the world, officially licensed in the year 1040, but actually dating as far back as the early 700's when the monastery was founded. Weihenstephaner is also the world's most renowned brewing studies university. The brewery and taphouse is in a beautiful location overlooking the town. A great place to savor some of the most perfectly brewed beer in the world (beers and lunch, if desired, on your own).
Then, mid day, we will once again travel by train out into the Bavarian countryside to the famous German monastery brewery, Kloster Andechs. This is one of the few monastery breweries remaining in the world outside of Belgium. Kloster Andechs is known for its Doppelbock, which is considered by many to be the best example of the style in the world. You will always remember your trip to Kloster Andechs. It starts with a mild hike through the forest and countryside, from the train station up the Holy Mount to the monastery. This takes about an hour and it is very scenic and beautiful. The walk makes the beer taste even better, but for those not up to it, you can also take a taxi or a bus. After a beer for our efforts, we can walk the grounds, tour the incredibly ornate church, which is often described as a deeply religious experience, and even climb the bell tower. Then, we will have lunch and more awesome beer on the grounds, and make our way back down the mountain (lunch and beer during the day are on your own). We can also explore the resort lake town of Herrsching before we leave this area. When we arrive back in Munich, some may be tired and ready for a rest, so the rest of the evening is open for you to explore the city, and have dinner on your own. I can make several great recommendations. Or, if some of the group are up for it, we may visit another one of my favorite beer gardens (if so, dinner and beer are on your own).
Kid Options - The morning will be a good time for kids and some adults to explore munich some more on their own, then in the afternoon, the kids will once again really enjoy the train ride out into the country. Plus they will enjoy the walk / hike through the woods and up the mountain to Kloster Andechs. The view from the top is great, including being able to see the Alps on a clear day, and the church is something everyone will enjoy seeing. Some kids may really enjoy climbing the bell tower as well. This is day that everyone will enjoy, plus you can head back into Munich anytime you would like.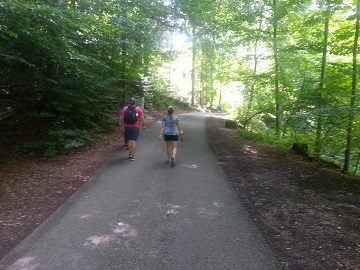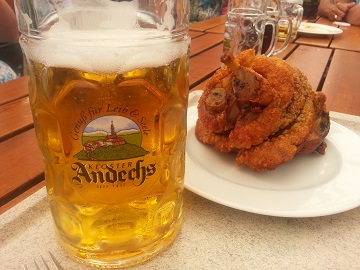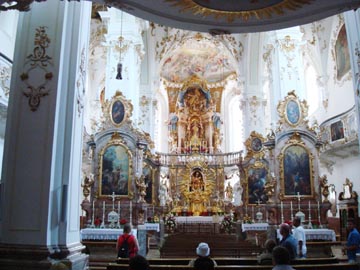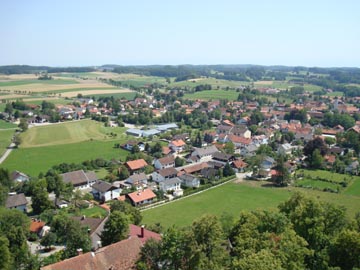 DAY 5: Tuesday - July 18th - Castle Day! Today, we take a slight break from the beer-focus of the trip and we board a luxury motor coach for a planned day of activities in the area of the famous Neuschwanstein Castle. We travel through scenic southern Bavaria to the border of Austria and into the foothills of the Alps. Here we will find the famous fairy tale castle constructed by legendary King Ludwig III. Once we arrive there, you can choose to do one of the following options: 1) You can take a bike tour around the area and possibly go for a swim in a beautiful mountain lake, which people describe as one of the most memorable things they have ever done (be sure to have your swim suit!)... OR 2) You can take an aerial tram (for an extra charge) to the top of the mountain for an absolutely breathtaking view, and if the weather is good, watch the paragliders and parasailers jump off the mountain and ride the air currents. If the weather, time and availability permits, you may even have the opportunity to take a tandem parasail ride over the castle (for an extra charge - have plenty of cash with you for this). I have done this and it is an amazing thrill that I will never forget. After these activities, the group will reconvene at the base of the mountain for lunch and a beer (on your own) and to participate in various other optional activities, including riding a fun alpine slide.
After this, it is time to make the hike up the mountain and tour the amazing castle. The hike is fairly strenuous, so if it is more exercise than you are interested in, you can take a bus to get you most of the way up the mountain and closer to the castle. Either way, there is a lot of walking to be done here, including up and down hills and lots of stairs, but the sights are worth it. And if you are up to it, the hike is certainly more scenic and memorable. The Neuschwanstein Castle is an architectural marvel of the world and this is a day you will never forget! If you are not up to very much walking, or just don't want to tour the castle, you can spend this part of the day in the picturesque little town at the base of the castle mountain, where there are lots of shops, a nice beer garden, a mountain lake, and more. After the castle tour, we will board the bus and head back to Munich. We will arrive there around 8:00 pm, in time to get some late dinner and do some more exploring on your own.
While the tour of the Neuschwanstein Castle and visiting the Alps and that area of Germany is highly recommended, another option for this day, our last day in Munich, is to stay in the city and explore it on your own if you haven't been able to see everything you wanted. There are some great museums in Munich, where you can see many of the old masters' works, including Da Vinci, Rubens, Rembrandt, and more, plus the shopping is great, especially for lederhosen and dirndls! Or, you can rent bikes or Segways, revisit some of the places we visited briefly on our bike tour, or just spend the day relaxing.
Kid Options - Castle Day is a great day for everyone! Seeing the Alps and the Neuschwanstein Castle is something everyone will remember their entire life.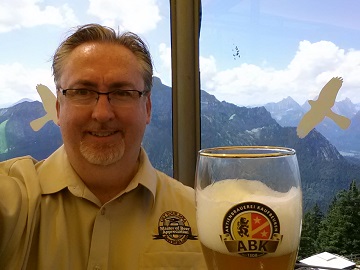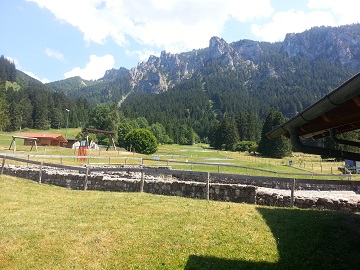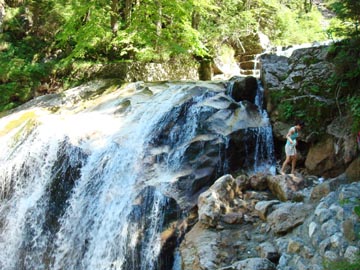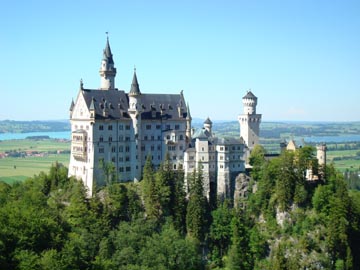 DAY 6: Wednesday - July 19th - It will be hard to say goodbye to Munich, but knowing we will soon arrive in Bamberg certainly makes it a little easier. After another great breakfast, we will check out of the hotel and board a private motorcoach that will take us to one of the most beautiful towns in the entire world. Bamberg survived the wars virtually without a scratch, so its 1,000+ year history remains fully intact, making it look like a town that time forgot. And the beer style the city is most well known for, its sweet and smokey Rauchbier, is also a throwback to another time when all barley malt was dried over burning logs. If you don't like smoked beer, there are plenty of other types, but my bet is that you will leave Bamberg as a fan of this incredible and unique beer. BUT, before we get to Bamberg, we will make an incredible stop along the way to visit the famous wheat beer (Hefeweizen) brewery, Schneider-Weisse, in Kelheim. If possible, we may get to tour the brewery, but either way, we will enjoy a broad selection of their great beers in their beautiful little beer garden in the courtyard of the brewery (lunch on your own).
After arriving in Bamberg and settling in to our hotel, I will get you acquainted with the city and where things are. This is literally my favorite place in the world, and you will probably like it as well. Some may be tired, so we may split up and have dinner and beers on our own, and you can start to explore this picturesque city on your own as well. It is relatively small and very easy and safe to walk around. I can provide suggestions and advice. Get some rest tonight, because tomorrow is a very full and busy day in Bamberg!
Kid Options - Kids and some adults may want to skip the Schneider-Weisse tour and explore the shops and things in the neighborhood around the brewery. Then we can all meet back up in the beer garden for a light lunch. Once we get to Bamberg, everyone will love the beauty and character of this town, which is truly like something out of a fairy tale.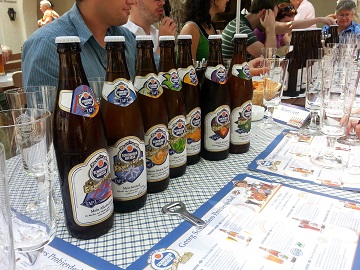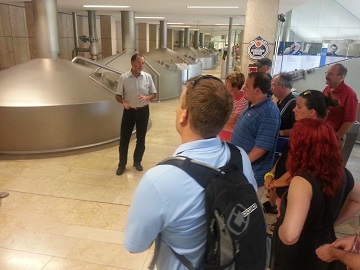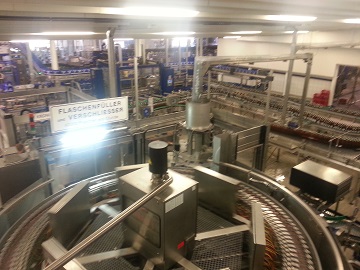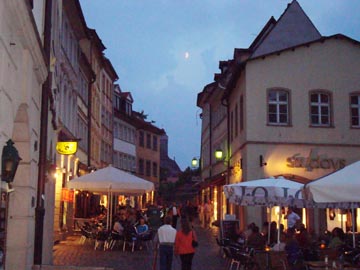 DAY 7: Thursday - July 20th - Today, after a hearty breakfast, we will visit the famous Weyermann Malting company, located in Bamberg, and hopefully get to tour this legendary provider of beer's most precious ingredient, malted grains. We will also visit and possibly tour Schlenkerla, the most famous rauchbier brewery in the world, as well as perhaps some of the other great breweries in Bamberg, which includes Spezial, Mahrs and several others. Bamberg is one of the most beer-centric places on earth, and the beer is incredible. Walking around Bamberg and visiting / drinking at these historic old breweries is a day you will never forget! We will also stop for lunch (on your own) and a great regional beer tasting at one of the most highly-rated beer bars in the world. And to end this incredible day, we will have an awesome beer dinner (included) at the famous Schlenkerla restuarant and pub. After dinner, we may stay here for a while and enjoy the incredible Rauchbier and ambience, or you may want to continue exploring this picturesque city on your own.
Kid Options - Some kids may want to do these tours today, as they are quite different and unique. Weyermann is not a brewery. As a factory that makes malted grains, it is like watching a "How It Is Made" show, with huge drum roasters, giant bag fillers, etc. Also, the Weyermann gift shop is very cool, with something for everyone. Today's lunch spot, in addition to being an incredible beer bar, is also a place to get some very non-German foods, including tacos, other mexican foods, pasta, hamburgers, etc. This is always a nice break from all the German foods, and I think any kids would enjoy this. Then, if we tour Schlenkerla, this is another very interesting and different kind of tour, because of the unique smokey style of beer they make. Also, we will get to go underground and deep down into the cold lagering cellars under the brewery, which is a great experience for all. In addition, next to Schlenkerla is one of my favorite beer gardens in the world. It overlooks the town of Bamberg, it has a lot of trees and even a small playground. While I think it may be a good day for all of us to stay together, if some kids and some adults want to skip these planned activities and just explore Bamberg on your own, that is perfectly fine. Bamberg has a lot to see. For dinner, again, depending on the ages of any kids that may be on the trip, they may have more fun having a pizza party and playing games at the hotel, rather than attending the beer dinner. It is probable that my older children will be on this trip, so they will help coordinate the kid options like this one.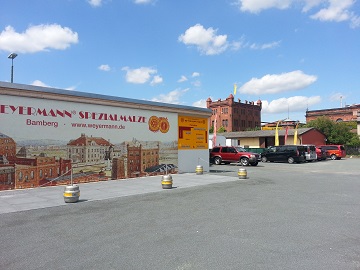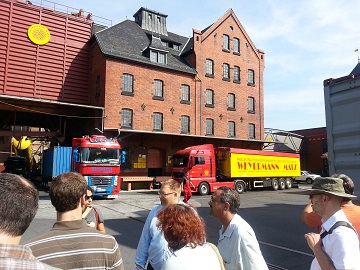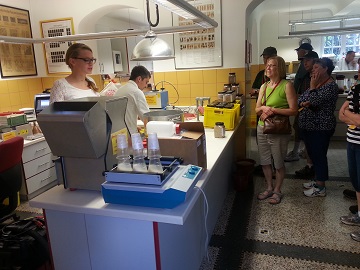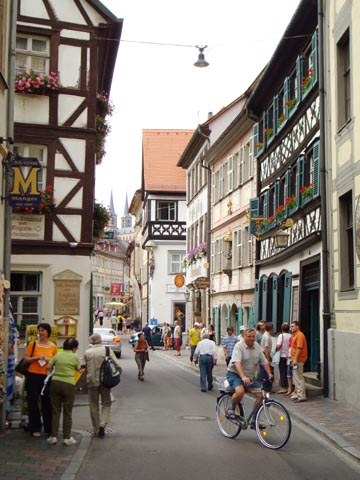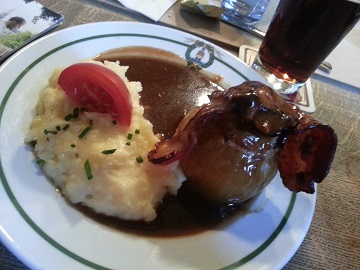 DAY 8: Friday - July 21st - Today is an Open Day to explore Bamberg and the surrounding area. Bamberg is a true beer lovers city, with numerous small breweries and brewpubs within walking distance. In addition, there is a fantastic cathedral up on the hill and many, many shops, a brewing museum, a puppet museum, you can take a gondola ride, watch street performers, eat incredible ice cream and more, all set in a postcard perfect, fairytale-like environment. I can provide suggestions and advice. The shopping, especially for antiques, and I mean real antiques, is truly awesome. It will be a great break from the busy days we have had so far, and in a setting that you simply will not want to leave. Also, if you are feeling adventurous, and especially if you have kids, I highly recommend taking a short train ride to neighboring Forchheim, where they will be in the midst of celebrating a week-long beer festival! This is the most incredible beer festival you will ever see, as it is set in the woods, on a hill, and there are carnival rides, and more. Breweries serve their beer directly out of their lagering caves! This is well worth a visit for all ages! Either way, I can provide advice and information as needed. In the evening, we may optionally meet back up at one of the great brewery restaurants to discuss our day. Food and beer today are on your own.
Kid Options - As an Open Day, you can do whatever you want, but I think any kids will love the train ride, and the carnival and beer festival in Forchheim. It is a great experience!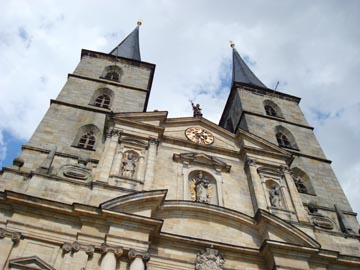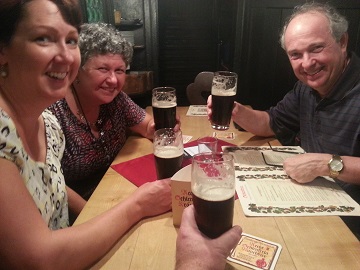 DAY 9: Saturday - July 22nd - Today, after breakfast, and perhaps one (or more) last Rauchbiers, we will check out of the hotel and again board a private motorcoach to take us to the town of Plzen in the Czech Republic. This is where we will have lunch (on your own) and tour the world-renowned Pilsner Urquell brewery, including its famous lagering caverns, where we will hopefully get to taste the unpasteurized and unfiltered version of their beer only served there. This will surely be an incredible day that you will never forget. After our tour, we will board our bus again, and be taken to our hotel in Prague. We should have time to start exploring Prague a little this evening, and maybe stop by U Fleku and some great beer bars, see the sunset on the famous St. Charles Bridge, and more (dinner and beers on your own).
Kid Options - Our stop at Pilsner Urquell is not a long one, and again this is a very unique historical brewery tour, so I think any kids would enjoy this, as well as seeing the sights in Prague this evening.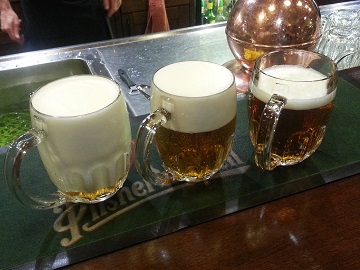 DAY 10: Sunday - July 23rd - Today, after a great breakfast at the hotel, we will set out to explore the beautiful city of Prague. This may just be an open day, or we can stick together and I can show you some of the great sights, breweries, bars and restaurants. This city is known for its incredible architecture, the Charles Bridge, and of course, the beer! Here in Prague, in addition to many of the world's best Pilsner beers, you will find many exceptional Dark Lagers! I love these European Dark Lager styles and I think you will as well. Food and beer today are on your own. You may want to make it an early evening tonight to give yourself some time to relax a little and get packed for the trip back home tomorrow.
Kid Options - This last day of the trip will be spent together, seeing the sights of Prague, including Prague Castle, and an ancient library, and walking St. Charles Bridge, and more.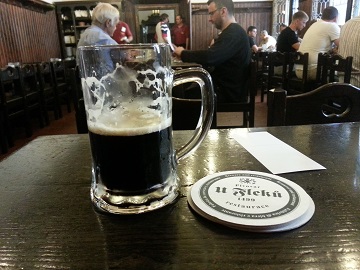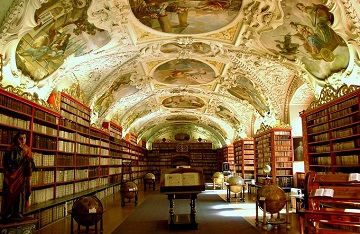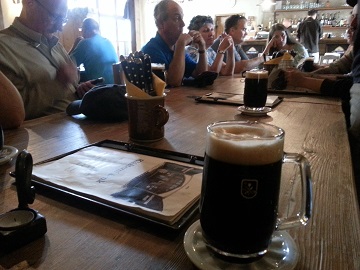 DAY 11: Monday - July 24th - Today, unfortunately, we will say goodbye and take a shuttle or taxi (on your own) from the hotel to the Prague (not Munich) airport, or you will venture on to wherever your travels may take you next, while dreaming about the next time you will see Germany and the Czech Republic again!
FAQs REGARDING THIS GERMANY BEER TOUR
ADULT COST: The Cost for the Summer 2017 Germany Beer Trip is $2,990 USD per Adult person traveling as a couple / pair, or $3,690 USD (hopefully a bit less) for someone traveling alone. Anyone 18 years old or older is considered an adult (but this is not a strict number and possible exceptions can be discussed). These prices are very close estimates for now and should not change, but the final, exact costs will be determined as people commit to going, as the time gets a little closer, exchange rates can be more accurately calculated, the itinerary is more definite, etc.
KID COST (kids aged 17 or younger and traveling with adults): The cost for kids will probably be $1,590 USD per person (if they can be grouped to get 2 kids per room). Most German hotel rooms are only designed for 2 people, and kids are considered adults at much younger ages (that vary, but as low as 10 or 12), so they are required to be in their own room. There may be some hotel options for rooms that sleep 3 or 4, but these rooms are rare and can't be counted on at this time. Regardless, if doing these "kid rooms", the kids may have more fun and the cost could be pooled, making it lower per child. This is only a possibility though, so the $1,590 USD price should be used for now. If you are interested in taking your older kids, send me an email stating how many kids, and their ages at the time of this trip.
WHAT IS INCLUDED: Basically, everything except the meals and beers specified above, your personal purchases, your airfare, and transportation from and to the airports. It includes all hotels, breakfasts each day, several meals and beers, train and bus travel, taxis, admission fees, base tips, etc. Note: For the included dinners, a certain amount of beer is included and in most cases is all you may want, but if you want more, you will pay for this separately or we will keep an accounting of it and you can reimburse me later.
COULD I SAVE MONEY DOING THIS ON MY OWN: Possibly, but it can require literally hundreds of hours of research and planning to make it happen as smoothly as what you will get on my trips. Also, you may have to drive yourself, or navigate foreign transit systems, to experience some of what we do, which puts a damper on being able to drink and enjoy yourself. Lastly, several things are just not options for people traveling alone. Either the group and / or my connections make some of the tours and things we do feasible. So yes, it is possible to save a little money, but I'm not making that much (especially on this special trip) and the added value I offer is well worth it to most people. Lastly, when calculating costs on your own, many things are often overlooked, which add up to extra dollars spent, plus without the proper planning, mistakes can happen and they can add costs quickly.
I DON'T KNOW IF I WOULD LIKE TRAVELING WITH A GROUP: This isn't a cruise ship or a high school field trip where every second of every day is planned. There are opportunities to do things on your own, there is no curfew, and few very early mornings. Also, the type of people that do a trip like this, are probably a bit of a beer geek just like you, and have you met many of them you didn't like ? Lastly, these are relatively small group trips. So just relax and have fun with some like-minded people in a flexible and friendly environment.
PAYMENT TERMS AND CONFIRMATION: I need to confirm the trip 3 months before the departure date at the latest, but a trip can be confirmed as soon as I have enough people signed up. Airline tickets should not be purchased until the trip is confirmed. If you are interested in going, please let me know. Send an email to BeerMBA@MarketWiseSolutions.com. If you definitely want to go and want to sign up and reserve your space, go ahead and send me an email, but also pay the initial 25% deposit. You can just go to www.Paypal.com and send any amount you want to this email address... "RonSmith -AT- MarketWiseSolutions -DOT- com". If doing this, please be sure to send a follow up email directly to me, to let me know how much you paid and what it is for. You can also use the Payment Form at the bottom of this page. If the trip does not happen, this full amount will be refunded to you. Otherwise, as soon as I have enough people signed up to confirm the trip, I will notify you and get your final confirmation, then at that point this 25% is no longer refundable. You will then be asked to pay the remaining 75%. This remaining 75% is due in full at least 2 months before the departure date (but sooner is better). After that 2 months prior to departure point, when all money must be received, no money can be refunded. All plans have been made at that point, things have been paid in advance, this is Germany's peak travel period, etc. In the event of a complete cancellation of the trip on my part, all money will be refunded to you, and instructions and notes will be provided to you to allow you to still do as much of the trip as possible on your own. These terms are subject to change at any time, but they represent the general policies.
INSTALLMENT PAYMENT PLAN OPTIONS: As a college educator, I know that money can be tight for some people, especially students, but I would like them to be able to do my trips if they really want to have these incredible life experiences. So to help with that, people can basically add money to their Trip Account whenever they want and I will just keep it in their account until it is either needed or refunded. You can just go to www.Paypal.com and send any amount you want to this email address... "RonSmith -AT- MarketWiseSolutions -DOT- com". If doing this, please be sure to send a follow up email directly to me, to let me know how much you paid and what it is for. These funds are subject to the same cancellation and refund deadlines and arrangements as any other funds, so as long as deadlines are not passed, if you start adding to a fund, but cannot go on the trip, your money will be refunded (except any fees incurred). This unique payment option provides a way for people to pay a little at a time, on whatever schedule they want (i.e. even daily or weekly additions can be made). If you have any questions about this, contact me via email at BeerMBA@MarketWiseSolutions.com.
Additional Information
The hotels are all very nice, safe, approx 3+ star type accomodations, with private baths and all the usual European amenities (i.e. possibly not air conditioning). More details can be provided upon request.

The itinerary and plans may change. With travel plans like this, things out of my control can always occur. If / when that occurs, I will try to plan something else. It will always be a fun and enjoyable trip and I will always give you your money's worth.

If you need a roommate, I can try to pair you up with someone, but it is up to you to make it work.

As with most European travel, these trips require A LOT of walking, standing and movement. You should be in reasonably good shape in order to participate in everything planned. However, there are certainly ways to take it easier and do less walking, etc. if you wish and don't mind not trying to keep up with the group.

Also as with most European travel in the summer, expect it to be VERY HOT at times and do not expect to find air conditioning everywhere. Hopefully, our hotels will have air conditioning, but this can't always be guaranteed, because most hotels simply do not have it, and even if they do, it may not work very well. Most restaurants and other public places do not have air conditioning either. In most cases, the heat is not too bad, but there are times in late July when it could get extremely hot. If this occurs, we can not control the weather and we will survive, though it may not be comfortable for a little while. In these situations, you will truly get to experience what it is like to live in that part of the world where most people do not have air conditioning.

Lastly, as with most European travel, expect things like hotel rooms and restaurants to be small and the quarters to be tight. Unlike the US or other parts of the world, space is often limited in Europe and many buildings are very, very old. This is part of the charm and the experience.

I am only the coordinator of the trip. I charge a fee to assist you and guide you in your travels. I am not responsible for, or liable for, your health, safety, lost or stolen property, etc.
Click here to sign up, get on my email list and/or contact me!
Also, be sure to Like Us on Facebook!
Top of Page
---
News
Beer Trips to Belgium and Germany

Beer Trips added for both Belgium and Germany in 2017 (Germany is a Family Friendly Beer Trip). Learn more and/or sign up today!
BJCP Study Groups, Beer Expert Training for the Cicerone® Exams and Private / Special Class Sessions Also Available

BJCP Study Groups are conducted once per year in the Fall, Beer Expert Training (for taking the Cicerone® exams) can be scheduled as needed, and special class sessions for beer distributors, wait staff and others in the beer industry can be customized to meet your needs. Private sessions for parties and events can also be arranged. See Classes for more information and/or call to discuss your needs!

---