Belgium Beer Trip 2017
(July 30 – Aug 8, or 10 with extension).

Brussels, Brugge and Antwerp!
July 30 - August 8, 2017 --- 9 Nights
PLUS OPTIONAL 2-Night Extension to Dusseldorf and Cologne on August 8th - 10th - 11 Nights Total
NOTE: See day-by-day itinerary below. All photos shown below and in the video were actually shot on previous trips!
DAY 1: Sunday - July 30th - This incredible Belgian Beer Trip starts when you arrive in Brussels (we will meet at the hotel - I will provide detailed step-by-step directions for how to get from the airport to the hotel - or if you prefer I can meet you at the airport if possible). After a short nap (for those arriving that morning and able to get into their room, which is not a certainty), we will meet up around noon and take a walk around the Grand Place and the old part of Brussels. I will get you acquainted with the city, how the trains work, where things are, etc. We will stop for a light lunch and perhaps your first beer (of many) in Belgium, and of course we can stop for frites, waffles (both types!) and chocolates (dont forget to ask me about that special locals pub that serves Westvleteren!). Then, we will go to one of the best beer-focused restuarants in the world for an incredible and very memorable meal (transportation to the hotel, lunch, beer and snacks during the day on your own - dinner is included). After a fun afternoon and early evening of getting to know Brussels, most of you that arrived in Belgium this morning will be exhausted, so we will call it an early night and let everyone settle into their room and get a good night's sleep. We have a very fun and very busy day tomorrow!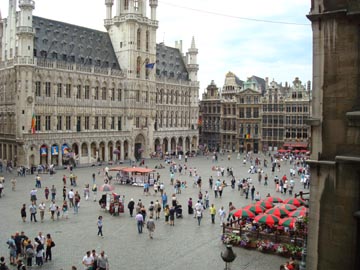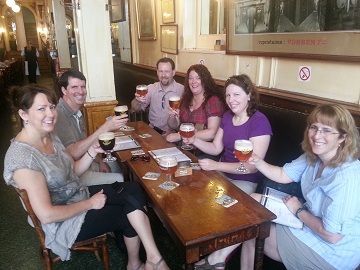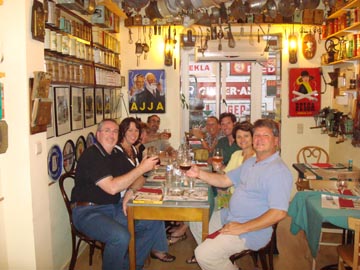 DAY 2: Monday - July 31st - After a hearty and delicious breakfast at the hotel, we will set out to explore more of the great city of Brussels. The day begins with an organized bike tour, which is a fantastic way to see and learn about the city, and includes a stop for beer and the country's famous frites (Brussels style) at a very historic location (lunch on your own). This is an amazing tour of this historic city that is both fun and educational. After the bike tour, you are free to explore more on your own or you can just take some time to relax. You will be provided with guides, notes and directions to some of the famous beer bars, area breweries, tourist attractions, museums, etc. We will meet back up for a big night that starts with an incredible Belgian beer dinner (included). This is sure to be a day you will always remember!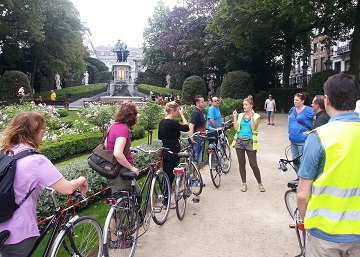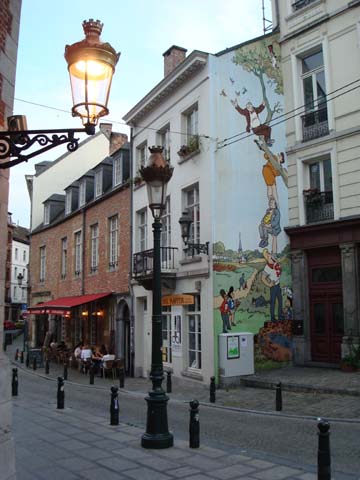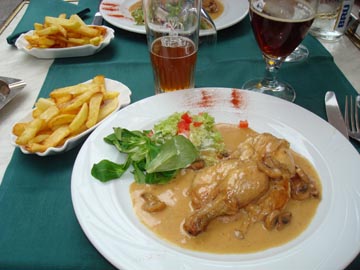 DAY 3: Tuesday - August 1st - After another wonderful breakfast at the hotel, we will visit one of the most famous Lambic breweries in the world, Cantillon! Cantillon is located in another part of Brussels, so we will take a city train across town. We will tour the facility, which is considered to be a working museum, and we will sample several of their incredible Lambics! This is a magical moment that you won't ever forget. In addition to this incredible tour, you will also have plenty of Free Time today to explore Brussels more on your own and see some additional sites (maybe the Atomium), museums, etc. This might be a great night to visit one of the restaurant rows (walking streets) and find a deal on some incredible food, like Brussels famous mussels (lunch, if desired, and dinner are on your own today).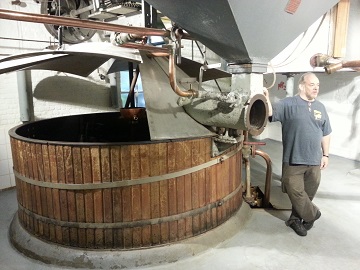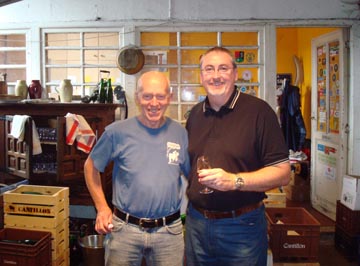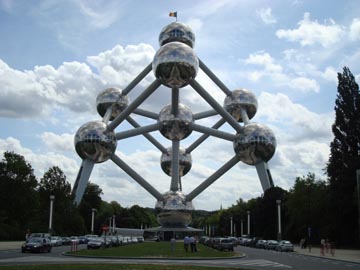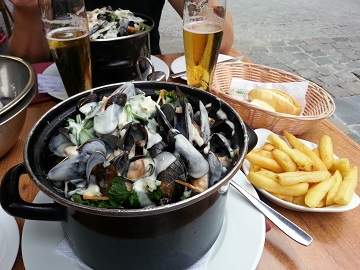 DAY 4: Wednesday - August 2nd - Monastery Day! After another great breakfast, we will get an early start and board a private motorcoach for an incredible, once in a lifetime trip to visit 3 famous Southern Belgium monasteries. First up, a little over an hour south of Brussels is the Abbey de Scourmont, or as most people know it, the legendary Chimay! We will sample the Chimay cheeses and beers, including the elusive low alcohol beer brewed specifically for the monks and only served at the abbey. A short walk through the woods takes us to the abbey itself, where we can walk the grounds, and if we are lucky, perhaps even see and hear the monks chanting during a ceremony.
Upon leaving Chimay, we will travel through rural France, as it is the shortest route, and come back into Belgium to visit Orval. Depending on several factors, we may get to tour the brewery, but either way, this is a great visit and a beautiful monastery. We can walk the ruins of the original monastery destroyed in the French revolution and visit the museum located in the caverns underneath the new abbey. In addition, we will eat an early dinner (included) at the Orval restaurant, where we can sample the famous Brettanomyces tinged Orval beers at their freshest, as well as an aged version and the special small version brewed only for the monks, and only available there.
At last, we will head back towards Brussels, but we will make a quick stop at the Rochefort monastery. This monastery is one of the most private ones in Belgium, lacking even basic signage to find it, but we will. After a quick look around the grounds, we will head into the small town of Rochefort and enjoy these famous darker fruity Belgian beers at their peak of freshness, perhaps with an end of the day dessert. Again, a day you will never forget!
It will be fairly late when we arrive back to Brussels, but you will certainly have time to have a final beer before packing and prepping to depart Brussels tomorrow morning.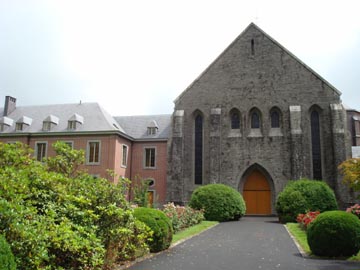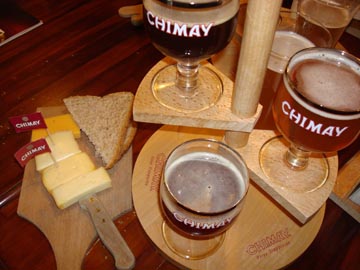 DAY 5: Thursday - August 3rd - It is always hard to say goodbye to Brussels, but we still have some incredible places to visit! After another great breakfast and checking out of the hotel, we will board a private motorcoach and head to the beautiful, fairy tale city of Brugge in Northern Belgium. On the way to Brugge, we will stop in the wonderful little town of Roeselare, the home of the famous Rodenbach Flanders Red-Brown Sour Beers. If things work out, we may be able to tour the brewery, but even if not, we can visit some great beer bars in Roeselare that serve some of Rodenbach's beers that can't be found anywhere else on the planet (beer and food on your own). We will also spend a little time exploring this beautiful town. After our visit in Roeselare, we will continue on to Brugge. The architecture, culture and feel of this incredible little town is like none other on Earth. Throw in the incredible beer of Belgium, and it might be the closest thing to heaven you will experience until you visit that big brewery in the sky. After we check into our bed and breakfast type hotel, we will spend a little time getting acquainted with the city, eat some dinner (on your own), then visit some of the great beer bars. Brugge has some of the best beer bars on the planet! These are places that won't even serve a beer if they don't have the proper glassware for it and every beer has its own special glass. These are incredible experiences!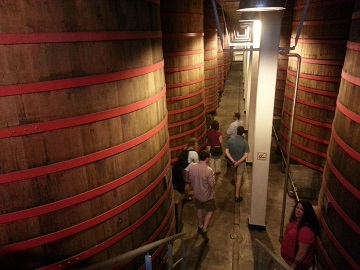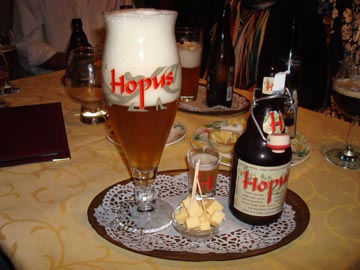 DAY 6: Friday - August 4th - Today, after a hearty breakfast, we will get a bit more acquainted with Brugge. I'll show you where you can rent bikes, where other famous beer bars are, where some of the key tourist sights are, etc. I'll also show you how to navigate the very confusing street map to keep from getting lost (or at least too lost - getting lost in Brugge is part of the fun). We can also visit and maybe tour the De Halve Maan brewery in Brugge. Lunch, if desired, is on your own. For dinner, we will have an excellent beer focused dinner (included) at one of the best restaurants in Brugge.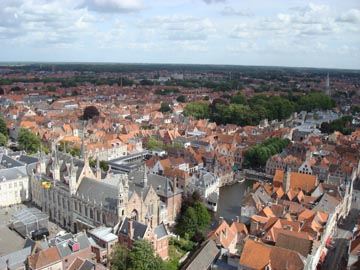 DAY 7: Saturday - August 5th - This is an Open Day in Brugge to explore the city and / or the surrounding area. There is a lot to see and do, including the famous boat tour of the city, climbing the bell tower, seeing the Church of the Holy Blood (where you can touch the vial that contains the dying blood of Jesus), or the only Michelangelo statue in Belgium, etc. In addition, you can rent bikes and ride around the city where you can see real windmills, or you can even ride into Holland if you wish (yes, it is that close). There is also a bike tour that goes to a small neighboring town that has a small brewery. In the evening, we can meet back up at one of the great beer bars to tell our tales of the day. Lunch, if desired, and dinner are on your own.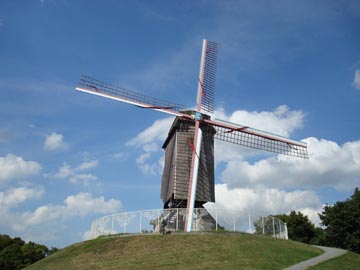 DAY 8: - Sunday - August 6th - Today, after breakfast and checking out of our hotel, we will board our private motorcoach, and say goodbye to fairytale town of Brugge and head to the metropolitan city of Antwerp. On the way to Antwerp, we will make a visit to the most elusive and legendary monastery of them all, Westvleteren! Westvleteren and the famous Westy 12 dark strong Belgian beer is hard to find, even in Belgium, but at the monastery, you can drink all you want, and for a very reasonable price. AND you can even get something more special, Westy 12 Ice Cream! Also, if we are lucky, you might be able to purchase some beer to bring back (you never know what, when or if they will be selling any). In addition to drinking the great Westvleteren beer in an incredible setting surrounded by fields of barley, we can also take a holy walk to a small chapel in the woods, and visit a brewery museum (food and beer on your own). This is a very memorable stop on our trip! After this great visit at Westvleteren, we will continue our journey to Antwerp. We will arrive in Antwerp in time to have some dinner (on your own) and to start exploring this beautiful city.
DAY 9: - Monday - August 7th - It is our last full day in Belgium and I have saved one of the best beers of all for today. We will travel by bus out to the Westmalle monastery! However, before we do that, you will have some time in the morning and early afternoon to explore Antwerp. We are not in Antwerp very long, so the day's activities are optional. You may want to visit the DeKoninck brewery (or at least drink their beer, the beer of Antwerp), visit one of the city's great beer bars, and/or see the sights, including Peter Paul Rubens home and museum. Antwerp is also the diamond capital of the world, and some good deals can be found if you know what you are looking for. I can provide some guidance on this and even refer you to the company that I have personally purchased from. Lunch, if desired, is on your own. Once we get to Westmalle, we can watch a nice video presentation about the monastery and the brewery at the large restaurant located there. We can also walk the grounds of the monastery. The restaurant is unique in its ability to serve both cold or cellar temp Westmalle beers (Dubbel and Tripel), and they also serve a very unique Half and Half blended beer, and even an ice cream with a Westmalle Dubbel caramel raisin topping! Yes, it is as good as it sounds! In addition to the beers, we will have an early Farewell Dinner (included) here at Westmalle. This is a really fun way to close the trip. We will get back to our hotel in Antwerp in time to have a last beer and/or relax a little and get packed and prepped for either your trip back home or for heading to Dusseldorf tomorrow.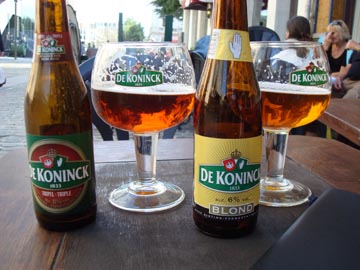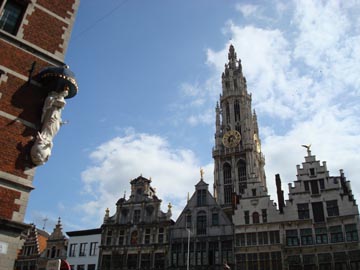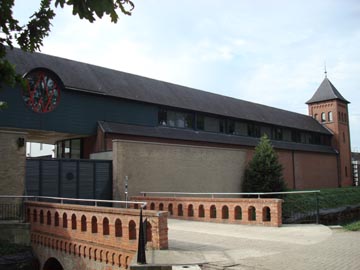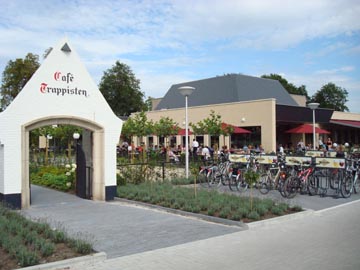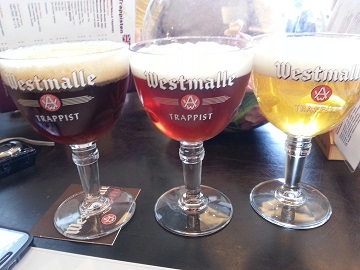 OPTIONAL - DAY 10: Tuesday August 8th - Today, after another great breakfast, those of you that are departing our tour will catch an Express Shuttle bus from Antwerp that will take you directly to the Brussels Airport (about 45 minutes away - minor cost on your own) or you will venture on to wherever your travels may take you next, while thinking about all the wonderful times you have just had in Belgium. For those of you staying with our tour for the Optional Germany Extension, we will board a small private motorcoach that will take us to Dusseldorf, where we will spend the night. On the way to Dusseldorf, if we have time, we may stop by the final / 6th famous Belgian Monastery, the smaller, craft-like Achel. The Achel Monastery is located right on the border of Belgium and the Netherlands, and is a great stop with wonderful beers, food and the coolest beer store you have ever seen (beers and food on your own)! Once we arrive in Dusseldorf, we will have an incredible beer dinner (included) at one of my favorite breweries, Zum Uerige, the maker of the classic Dusseldorf Altbier! If possible, we may also get a tour of this unique brewery that still uses a coolship and insists on various other older brewing techniques. After this dinner, we should have time to walk around the altstadt (old part) of Dusseldorf and sample various other breweries version of Altbier.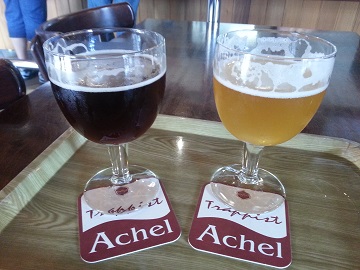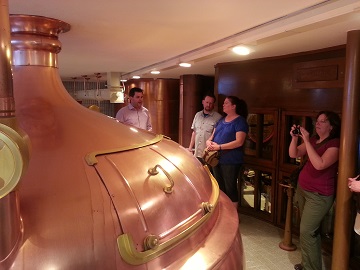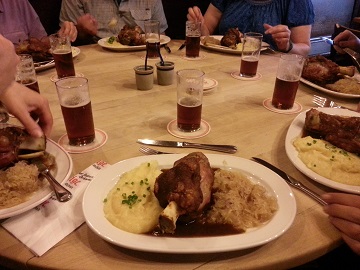 OPTIONAL - DAY 11: Wednesday August 9th - Today, after a nice breakfast and maybe a final Altbier, we will board our private motorcoach and head to Cologne and then on back to Brussels. We will spend all afternoon exploring Cologne and sampling as many Kolsch beers as you wish. All the breweries in Cologne make the light, crisp, delicious Kolsch style beer, and visiting lots of Cologne breweries and sampling many versions of this great style is a lot of fun for any beer lover! In addition, there are some sites to see, like one of the Top 5 rated gothic cathedrals in the world and seeing the gold case that houses the bones of the Three Wise Men. This is truly an amazing cathedral that is hard to fathom without seeing it in person. Lunch and beers on your own. After an incredible visit in Cologne, we will head back to our original hotel in Brussels for our final night of the trip. We will get back into Brussels in time to have a last beer, dinner (on your own), revisit some favorite places, get some last minute gifts, etc., and then relax a little and get packed and prepped to leave tomorrow.
OPTIONAL - DAY 12: Thursday August 10th - Today, unfortunately, we will say goodbye and take the city train (on your own) from the hotel to the Brussels airport, or you will venture on to wherever your travels may take you next, while dreaming about the next time you will see Belgium and Germany again!.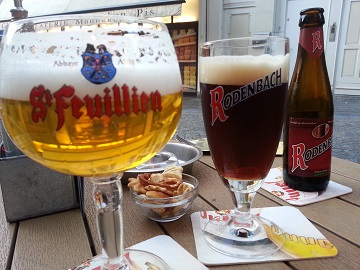 FAQs REGARDING THE BELGIUM BEER TOUR
COST: The Cost for the Summer 2017 trip is $2,850 USD per person traveling as a couple / pair, or $3,450 USD (maybe a little less) for someone traveling alone. For future trips, the above number is the estimate and the final, exact costs will be determined as the time gets a little closer, exchange rates can be more accurately calculated, the itinerary is more definite, etc. NOTE: The Optional 2 nights in Dusseldorf and Brussels for the Summer 2017 trip is an additional $520 USD per person traveling as a couple / pair, or $650 USD (maybe a little less) for someone traveling alone.
WHAT IS INCLUDED: Basically, everything except the meals and beers specified above, your personal purchases, your airfare, and transportation from and to the airports. It includes all hotels, breakfasts each day, several meals and beers, train and bus travel, taxis, admission fees, base tips, etc. Note: For the included dinners, a certain amount of beer is included and in most cases is all you may want, but if you want more, you will pay for this separately or we will keep an accounting of it and you can reimburse me later.
COULD I SAVE MONEY DOING THIS ON MY OWN: Possibly, but it can require literally hundreds of hours of research and planning to make it happen as smoothly as what you will get on my trips. Also, you may have to drive yourself, or navigate foreign transit systems, to experience some of what we do, which puts a damper on being able to drink and enjoy yourself. Lastly, several things are just not options for people traveling alone. Either the group and / or my connections make some of the tours and things we do feasible. So yes, it is possible to save a little money, but I'm not making that much and the added value I offer is well worth it to most people. Lastly, when calculating costs on your own, many things are often overlooked, which add up to extra dollars spent, plus without the proper planning, mistakes can happen and they can add costs quickly.
I DON'T KNOW IF I WOULD LIKE TRAVELING WITH A GROUP: This isn't a cruise ship or a high school field trip where every second of every day is planned. There are opportunities to do things on your own, there is no curfew, and few very early mornings. Also, the type of people that do a trip like this, are probably a bit of a beer geek just like you, and have you met many of them you didn't like ? Lastly, these are relatively small group trips. So just relax and have fun with some like-minded people in a flexible and friendly environment.
PAYMENT TERMS AND CONFIRMATION: I need to confirm the trip 3 months before the departure date at the latest, but a trip can be confirmed as soon as I have enough people signed up. Airline tickets should not be purchased until the trip is confirmed. If you are interested in going, please let me know. Send an email to BeerMBA@MarketWiseSolutions.com. If you definitely want to go and want to sign up, go ahead and send me an email, but also use the Paypal options below to pay the initial 25% deposit. If the trip does not happen, this full amount will be refunded to you. Otherwise, as soon as I have enough people signed up to confirm the trip, I will notify you and get your final confirmation, then at that point this 25% is no longer refundable. You will then be asked to pay the remaining 75%. This remaining 75% is due in full at least 6 weeks before the departure date (but sooner is better). After that 6 weeks prior to departure point, when all money must be received, no money can be refunded. All plans have been made at that point, things have been paid in advance, and this is Belgium's peak vacation season, so their cancellation policies are very strict. In the event of a complete cancellation of the trip on my part, all money will be refunded to you, and instructions and notes will be provided to you to allow you to still do as much of the trip as possible on your own. These terms are subject to change at any time, but they represent the general policies.
IMPORTANT NOTE ON PAYPAL PAYMENTS: Using Paypal, you can pay either directly from your bank account or you can use a credit card. Using Paypal is highly preferred for these payments, as it keeps everything in one place, it is easy for me to pay my providers in Europe, there is an electronic accounting of everything, reimbursements are easy if needed, etc., plus, it is easier for you. If necessary, I can even make it easier by sending you an invoice through Paypal, which contains the exact instructions for making the payment in various ways. For Paypal payments, you can use the forms below and/or just send it to this email address... RonSmith -AT- MarketWiseSolutions -DOT- com . Note that for any reimbursements, any Paypal transaction fees (possibly 3%) charged to me will not be refunded. If you have any questions, contact me via email at BeerMBA@MarketWiseSolutions.com.
INSTALLMENT PAYMENT PLAN OPTIONS: As a college educator, I know that money can be tight for some people, especially students, but I would like them to be able to do my trips if they really want to have these incredible life experiences. So to help with that, people can basically add money to their Trip Account whenever they want and I will just keep it in their account until it is either needed or refunded. I have provided some installment amount options below to make it easy, but you can also just go to www.Paypal.com and send any amount you want to this email address... RonSmith -AT- MarketWiseSolutions -DOT- com . If doing this, please be sure to send a follow up email directly to me, to let me know how much you paid and what it is for. These funds are subject to the same cancellation and refund deadlines and arrangements as any other funds (see notes above), so as long as the deadlines are not passed, if you start adding to a fund, but cannot go on the trip, your money will be refunded (except any Paypal fees). This unique payment option provides a way for people to pay a little at a time, on whatever schedule they want (i.e. even daily or weekly additions can be made). If you have any questions about this, contact me via email at BeerMBA@MarketWiseSolutions.com.
Additional Information
The hotels are all very nice, safe, approx 3+ star type accomodations, with private baths and all the usual European amenities (i.e. possibly not air conditioning). More details can be provided upon request.

The itinerary and plans may change. With travel plans like this, things out of my control can always occur. If / when that occurs, I will try to plan something else. It will always be a fun and enjoyable trip and I will always give you your money's worth.

If you need a roommate, I can try to pair you up with someone, but it is up to you to make it work.

As with most European travel, these trips require A LOT of walking, standing and movement. You should be in reasonably good shape in order to participate in everything planned. However, there are certainly ways to take it easier and do less walking, etc. if you wish and don't mind not trying to keep up with the group.

Also as with most European travel in the summer, expect it to be VERY HOT at times and do not expect to find air conditioning everywhere. Most of our hotels have air conditioning, with the exception of Brugge and Dusseldorf, where most hotels simply do not have it, and most restaurants and other public places do not have it either. In most cases, the heat is not too bad, but there are times in late July when it could get extremely hot. If this occurs, we can not control the weather and we will survive, though it may not be comfortable for a little while. In these situations, you will truly get to experience what it is like to live in that part of the world where most people do not have air conditioning.

Lastly, as with most European travel, expect things like hotel rooms and restaurants to be small and the quarters to be tight. Unlike the US or other parts of the world, space is often limited in Europe and many buildings are very, very old. This is part of the charm and the experience.

I am only the coordinator of the trip. I charge a fee to assist you and guide you in your travels. I am not responsible for, or liable for, your health, safety, lost or stolen property, etc.
Click here to sign up, get on my email list and/or contact me!
Also, be sure to Like Us on Facebook!
Belgium Trip 2017 - Payment Options:
Use one of the Paypal Form options below to pay for your trip. Pay for each person separately. Be sure to select the correct option (i.e. If Paying the Initial 25% or the Final 75%, if Using the Double or Single Occupany Rate, and With or Without the Germany Extension). If you want to pay a different amount to break up your payments, go to www.Paypal.com and send your payment directly to this email address... RonSmith -AT- MarketWiseSolutions -DOT- com . Be sure to also send an email to explain who and what this payment is for. If using the forms, use the spaces provided to provide this information, including your Name and Email Address and What You Are Paying For. The Pay Now button will take you to Paypal's website for a secure transaction. Paypal is a very safe and proven service. You will see a Thank You / Confirmation Page upon successfully completing your payment.
NOTE: You do not need a Paypal account to use Paypal. You can pay with most major credit cards, a debit card or directly from your bank account (though you have to have a registered account to pay direct from a bank account and this can take a couple days to set up and verify). Just look towards the bottom of the Paypal page to pay without having a Paypal account. If you cannot pay using Paypal or if you encounter any problems, please contact us at BeerMBA@MarketWiseSolutions.com or call 877-616-3417 and speak to Ron Smith.
Top of Page
---
News
Beer Trips to Belgium and Germany

Learn More about our incredible Beer Trips and Sign Up Today! Learn more and/or sign up today!
BJCP Study Groups, Beer Expert Training for the Cicerone® Exams and Private / Special Class Sessions Also Available

BJCP Study Groups are conducted once per year in the Fall, Beer Expert Training (for taking the Cicerone® exams) can be scheduled as needed, and special class sessions for beer distributors, wait staff and others in the beer industry can be customized to meet your needs. Private sessions for parties and events can also be arranged. See Classes for more information and/or call to discuss your needs!

---